Advertorial
STRESS HURTS! Here's How To Melt It All Away in 10 Minutes!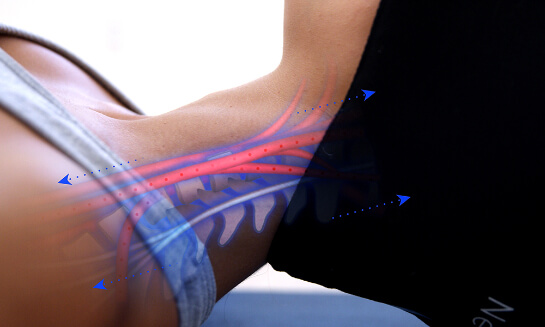 This (Unexpected) Natural Stress Reliever is Getting RAVE REVIEWS
They say stress is the silent killer. We weren't made to work the way we do now. Between deadlines, working late, pounding coffee to get through your afternoon, and more unread emails than you can count, we're stressed out!
And it's not just emotionally taxing. That tightness in your neck after a long day. That nagging tension in your shoulders and upper back. Even if you're managing your stress, your body is feeling it.
Next thing you know, sitting up hurts. Bending over hurts. Turning your head hurts. Sometimes you can't even get comfortable enough to sleep at night.
It's terrible – you feel like you can't relax, even when you're at home!
What's worse, the pain is darn near impossible to get rid of by yourself – no matter how much rubbing, rolling, massaging, or pressing on sore spots you do.
Stress and anxiety have a way of making your muscles tense up, even when you're not thinking about it. But what if you could just….melt it all away, in just 10 - 15 minutes?
Thanks to physical therapist Dr. Steve Sudell, you can. After two years of research and development, Dr. Sudell's invention has helped over 60,000 people in 78 countries relieve their neck pain and FINALLY RELAX! Now, his invention has become one of the hottest devices of the year and has sold MILLIONS!
Don't want to read this whole article and Ready to Act Now?
We wrote this to inform people like you about this product, but if you're ready to FINALLY get relief from neck aches, stiffness, and pain, you can click the button below to see special offers and buy NOW!
What Is It?
It's called The Neck Hammock. This simple, portable little hammock to support your head and neck allows you to get fast relief from everyday neck pains wherever you are.
NO moving parts.
NO complicated setup. 
NO batteries required. 
Using it couldn't be simpler.
Just follow these 3 steps to make your neck feel incredible:

1. Wrap the elastic bands around your door handle
2. Close the door
3. Lie down and gently recline your head in the hammock
Voila – just set a timer for 10 - 15 minutes, and let gravity do the work!
How Does It Work?
When your neck doesn't feel quite right, the problem is usually tension in the muscles that surround the vertebrae in your neck. The Neck Hammock uses your own body weight and the pull from its resistance bands to create "cervical traction" – a fancy way of saying a gradual stretching of your neck – to relax those neck muscles.
A close friend of mine had a baby last year and started using his Neck Hammock to relieve the stress and tension that comes from carrying a newborn around. Now, he uses it every day and can't stop raving about it! His favorite line is always "It's a damn good stretch" and after I tried it, he's right. It's a damn good stretch.
The science behind this is OVERWHELMING
According to the US National Library of Medicine, doctors have confirmed the value of cervical traction to help patients get relief from tension headaches, pinched nerves, herniated discs, and overall pressure for decades. Now with The Neck Hammock, you can get the experience most people only get at the doctor's office, anywhere there's space to stretch out.
It's (almost) like having a physical therapist with you all the time!
A Few More Things To Love About The Neck Hammock…
Melts away stress and anxiety - Seriously...customers report that The Neck Hammock is so relaxing, you'll have to try not to fall asleep while using it!
Use it anytime, anywhere - The Neck Hammock can wrap around any door, railing, or pole – giving you the flexibility to use after a long flight in the hotel room, on a yoga mat on the beach, or after a stressful day of work in the comfort of your own bedroom.
Relief in minutes - All it takes is 10 - 15 minutes a day to properly stretch your neck and relieve your tension! If your neck is in really bad shape, use it 2 - 3X a day for 15 minutes at a time. 
Perfect for travel - Easily stores in your luggage when traveling, or simply place in your dresser when you're done at home. Hand washable, one size fits all!
So How Much Does The Neck Hammock Cost?
A trip to the chiropractor will cost you $60-$100 and usually, it takes at least 3 or 4 trips to feel better. BUT: Today you can get The Neck Hammock Bundle for $49.99 - that includes 1 Neck Hammock, 1 Travel Bag, 1 Eye Mask, and 1 Do Not Disturb Door Hanger.
That's a small price to pay to be free of aggravating, life-interrupting neck pain.
(And with the 100% Money Back Guarantee they are offering if you don't love it, there's ZERO RISK. Seriously….there's no reason in the world not to order yours right now!)
Special Offer:

As of TODAY, Neck Hammock is still offering an incredible limited time deal. You can get 1 FREE Neck Hammock when you buy 2 of them today!

Neck Hammock makes the perfect gift for fitness enthusiasts, travelers, your friend who always complains about their neck pain – anyone really! Don't delay…we're told this amazing deal is for a very limited time, so you must act now!
Where Can I Get The Neck Hammock?
Don't be fooled by cheap knockoffs! The real PATENTED Neck Hammock can be bought from their official website here.
Join the THOUSANDS of smart men and women who are taking back their days from constant aches and pains. Living with neck pain is a choice – make the right one with The Neck Hammock.